RETAILERS…
Get 80% more customers!
Since 80% of consumers look online before making a buying decision you could be missing out on whole lot of business.
Expose your business to that 80% with our Local Internet Marketing service and significantly increase your sales.  Getting onto page 1 of Google search results is the key to picking up that business. and it becomes even more important when you consider 94% of searchers do not scroll onto the 2nd page of Google! You can find out more of how we can help you tap into those customers here >> [LOCAL INTERNET MARKETING SERVICE].  In this article though I want to focus in on one very important element of our internet marketing service, please read on to learn about why a business blog is a key element in local internet marketing.
A Business Blog is key to local internet marketing
If you own a local retail business and have yet to 'switch on' to local internet marketing you could be missing out on a significant opportunity. Here we are going to take a look at just one segment of high street retail – shoe shops – mens shoe shops in fact and use it to try to drill down to the real value of local internet marketing to a typical retailer. Do you remember the big yellow book? (yellow pages) it was the default 'go to' to find local businesses or shops. If you weren't in yellow Pages you didn't exist (or so they told us!) and if you are old enough to remember the book was quite a hefty item, in some areas many inches thick, but, how things have changed!. Now it is but a wafer thin version of its former self and the internet is to blame.
People now turn to their PC, laptop, ipad, or smartphone and search online to find the local takeaway, MOT centre, shoe shop, dentist, chemist, the list is endless. These people conducting these local searches are not only looking for the location of your service or shop they are also looking for information to learn about your product or service and/or price and compare to your competitors before making a buying decision or visiting your business.
Google recognise searches that have a 'local intent' for example if you search for 'paint' Google will provide generic brand related results with no specific geolocation indicators in use, however if you search 'painters' Google perceives this as a search with local intent and uses geolocation information to return a page of results containing local painters and decorators and a map showing their location.
1 in 3 Google searches have local intent
According to Ed Parsons who is the Geospatial Technologist at Google around 30% of queries relate to places and information about locations and he wasn't referring to google maps, just entries into a standard Google search bar.
Priority 1 therefore is local content creation  – creating quality, locally-optimised content, improving your on-site SEO and integrating a locally-focused link building strategy are critical for local optimisation
The following table shows where searcher 'clicks' land across the first page of results returned by Google after a search for 'mens shoes in northampton' is entered: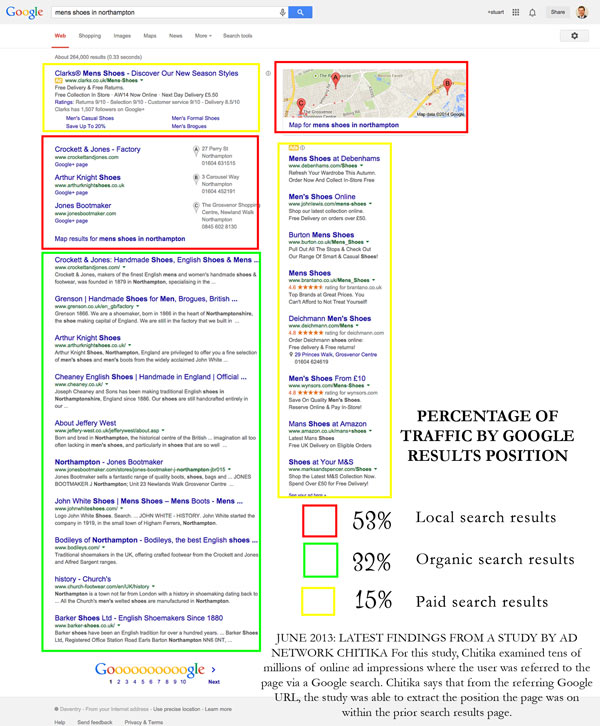 The majority of searchers, 85% of them, ignore the initial paid search results at the top and right hand side highlighted in the yellow boxes but instead choose to pick from the organic results shown here in the red and green boxes. The first placed result generally gets around 26%, then 14% of people click on the second place result. After which 9% on the third place result, and so on. It's amazing how quickly click through rates fall as you move down the page. Finally, at the bottom only 5% of searchers click onto page two of Google and only 1% of searchers make it as far as page 3. Which, is why many companies are prepared to pay very large sums for an internet marketing service to ensure their company is placed high on the first page of Google results to win that business.
In this particular case for a Google search for 'mens shoes in northampton'  the top Local search results (bordered in red) pick up 53% of page one clicks and on average in England 368,000 such searches are made every month! In Milton Keynes alone there are nearly 1,300 searches made and in our example in Northampton a massive 2,400 every month.
That means if your shoe shop is in the top 3 local search results for 'mens shoes in Northampton' you can expect up to 1,196 extra visitors to your website every month!
As demonstrated here and for very many more local businesses local search is becoming a significant contributor to small business marketing strategy.
Local search therefore represents an opportunity to put your business in front of a very large number of potential customers, increase leads and profits. So how do you get into those top slots on Google's first page?
In most cases not as difficult or expensive as you might imagine and Media 9's local internet marketing service can help. You can get more information and a free website review and quote here: local internet marketing for retailers.
There are many factors involved in driving your business to the top of Google search results and next to locally focussed technical onsite optimisation one of the most important factors is 'relevant content' and one of the most efficient methods of delivering that content is through a business blog.
Its important to remember – Google decides
Quite simply Google want to provide their customers (internet searchers) with the best and most relevant results. They will scrape the internet looking for the best answer to the query, so in the words of Google:
Use your Business blog to provide the information they're looking for
Your most important task is high-quality content creation for your posts and pages your pages. If your pages contain useful information, their content will attract many visitors. Use your business blog to create a helpful, information-rich site, with well written  pages for the customers that you want and expect to visit your site.
Content creation efforts need to be locally relevant, fresh, have variety and be regularly updated and the best way to achieve this is with a Business Blog. It is one of the most effective tools we use in our Internet Marketing Service, the addition of a quality blog to your website is a hugely effective way to increase general and local organic traffic to your site.
Here are just 5 of the many benefits of a Business Blog
Develop your businesses 'voice,' you can inject some personality and tone into your business brand.
Message variety, where your normal website pages remain product focussed and stay 'on message' a blog can wander off into pastures new, you can write about what you feel is most useful and entertaining for your audience.
Increases indexed pages,whenever you write a blog post it is indexed in search engines.
Stay current with fresh content, Google gives precedence to sites that are continually updated with new content. A blog is a great way to keep your site fresh.
Helps build relationships and trust, Blogging can be interactive communication and provide opportunities for you to build strong relationships with your readers, customers and prospective customers.